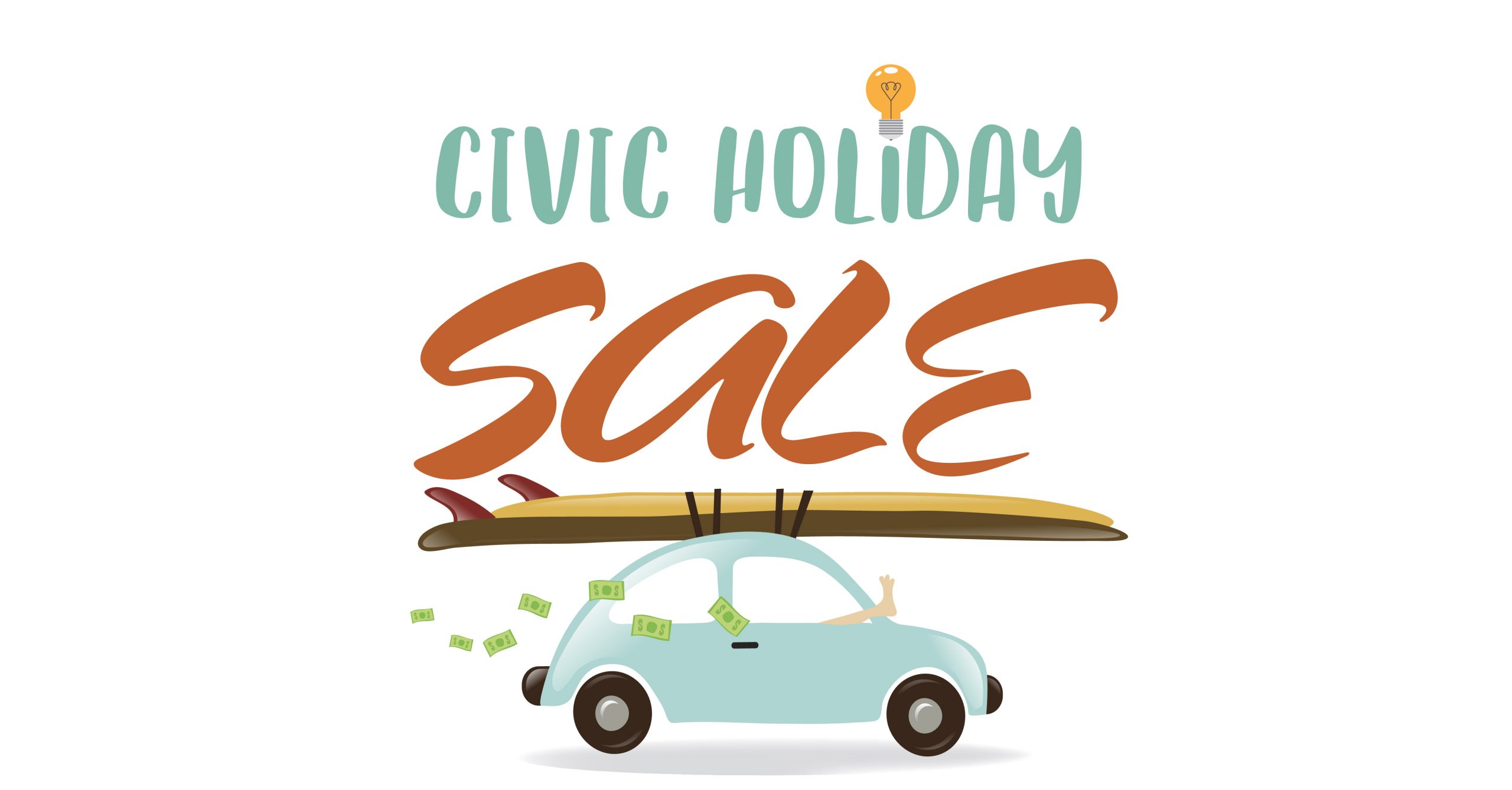 3 Ideas For A Successful Civic Holiday Sale
This year, the Civic Holiday will be celebrated on Monday, August 3rd. Also known as Simcoe Day in Toronto, this cap to the summer holiday long weekend is seen by many Canadians as a favourite time of year. It is smack dab in the middle of the summer and it provides a well-needed extra day off work. Depending on where you are in Canada, however, the first Monday in August may mean something different to you.
According to StatutoryHoliday.com, "it's called Regatta Day in Newfoundland, Terry Fox Day in MB, Saskatchewan Day in SK, British Columbia Day in BC, Natal Day in Nova Scotia and PEI… New Brunswick Day in New Brunswick, Colonel By Day in Ottawa, Heritage Day in Alberta and Joseph Brant Day in Burlington, ON."
For business owners, the upcoming holiday is an important one to acknowledge. No matter where you are in Canada, it's a good idea to bring attention to the occasion in an effort to garner greater attention for your brand. It's time to start promoting your Civic Holiday Sale!
Here are three ideas for how to pull off a successful one:
1. Swap marketing materials with another business.
It's time to partner up! With the coronavirus pandemic making things tough for businesses everywhere, there's really no downside to trying to forge a new partnership. Offer to promote another store's sale on your website in return for having that store do the same for you. As long as you aren't competitors, the new partnership creates a win-win situation – not just for your upcoming sale, but for the foreseeable future.
"Collaborating with another business can be a great way to boost sales for both parties," writes April Maguire on BusinessKnowHow.com, "Because people are often eager to get out of town during the hot summer months, you might want to consider partnering with a travel company or local tour guide business. You can offer customers who spend $25 at your store another $25 in credit with your partner."
2. Add additional value to purchases.
Sales don't necessarily mean discounted prices alone. They can also mean getting more bang for your buck! Let your customers know that you're doing more than just slashing prices this forthcoming Civic Holiday. Promote the fact they can get more value for the dollars they spend in your store.
"For example, a local nail salon could offer a deal in which customers who purchase both a manicure and a pedicure get free nail art," suggests Maguire, "Similarly, you can opt to give away branded items like beach bags or water bottles with purchases of $25. Not only do these branded gifts serve as great marketing tools, but they also boost goodwill among your client base."
3. Offer coupons via social media.
A great way to encourage online sales is to offer your Civic Holiday discounts online. As the pandemic continues on, many consumers will much prefer to do their shopping from the comforts of their own homes. Allow them to do so by promoting your sale using your social media accounts. Be sure to let customers take advantage of the discounts you're offering in your online store.
Are you in need of some funding to launch your latest campaign? For information about Synergy Merchants' unique merchant cash advance program, please don't hesitate to call us 1-877-718-2026 or email us at info@synergymerchants.com. You can also apply online for a free, no obligation quote!