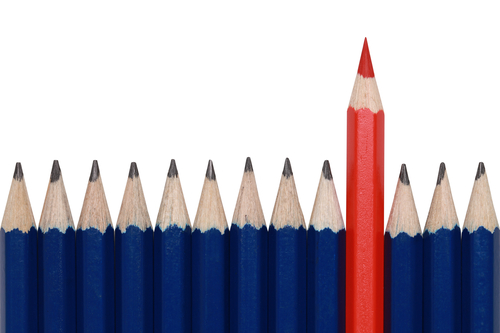 Ensuring That Your Brand Stands Out From Its Competitors
In today's business world, being different is important. Because customers have such easy access to discovering the differences between your business and its competition (read: the internet), it's important to come up with unique ways to keep the interest of your target audience piqued. Standing out from the crowd isn't the hardest thing in the world to do. It simply takes some creativity.
What is a creative way to separate your brand from its competition? Maybe, the obvious answer is simply to provide something that your competitors do not. For example, is there something that you can offer your customers for free on a regular basis? Don't assume that doing so will necessarily cost you money. We're talking about simple things such as advice. It costs you nothing to lend a helping hand. It may be wise to advertise that people can come to you to get help with solving their problems.
On Entrepreneur.com, Thomas Edwards highlights the benefits that being a problem solver can bring to business owners. He writes that it can help to make you stand out among your business competitors. "The ultimate 'wingman' will do what it takes to find his friend success when meeting new people, even at the sacrifice of his own," says Edwards, "If what you provide isn't the solution to someone's problem, find a solution for them anyway. The loyalty you'll receive will be unprecedented."
How important is customer service in creating separation between your brand and others like it? Hopefully, this is received as somewhat of a trick question. And that's because it should be lost on no business owner that excellent customer service is an integral part of any company's success. Of course, it pays to have the type of customer service that puts your competitors to shame.
On Forbes.com, Larry Myler goes so far as saying that you should treat your customers like royalty. "The belief that customer service only matters in the service industry is a myth," he insists, "All customers have an expectation of great service and will not put up with waiting in long lines or receiving poor responses from representatives. Around 75% of customers state that they consider customer service a true test of a company's competence."
How important is it to be unique with your advertising strategies? We all know that consumers can be swayed by inventive marketing campaigns. Creating memorable ad campaigns that may involve billboards, radio spots or even television commercials will certainly have huge impacts on the members of your target audience. The concern, of course, may be the affordability of such undertakings.
At Synergy Merchants, we've been helping Canadian business owners to afford their elaborate marketing campaigns for the past decade. We know the importance of standing out from competitors in order for a business to dominate within its marketplace. We also know how important it is for said business to finance its advertising strategies. Our merchant cash advance program is perfect for such ventures!
How can Synergy Merchants help you to afford your next marketing campaign? Give us a call to get a free, no obligation quote for a merchant cash advance from one of our licensed funding specialists. After a simple review of your monthly credit card and debit card sales, you will discover just how much money you're eligible to receive and what it will cost you. You can actually receive your business financing in as little as 24 hours!
Call Synergy Merchants at 1-877-718-2026 or email us at info@synergymerchants.com.
.