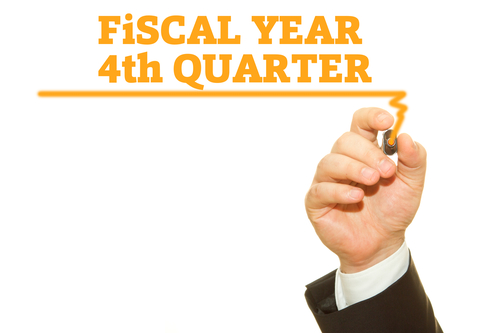 4 Ways To Prepare Your Business For A Successful 4th Quarter
In the business world, each year is divided into four quarters of three months each. And, as all business owners know, the fourth quarter of each fiscal year is the busiest one of them all. Naturally, with the holiday season taking place at the end of the year, the opportunity to boost sales is made available to retailers of all kinds. However, because the fourth quarter is the final one of each year, entrepreneurs generally strive to ensure that they are the most successful.
In what ways can you prepare your business for a successful fourth quarter? Here are four ideas:
1. Prepare a marketing and promotion campaign well in advance. Considering that there is only a week to go before 2016's fourth quarter begins, you don't have a lot of time to begin devising your marketing plans for the next three months. Hopefully, you've begun them already. If not, there's certainly no time to waste as there will be many opportunities for you to boost sales between now and the new year.
However, as Jason Lucash points out on Entrepreneur.com, it's wise to plan ahead. "It is essential for businesses to prepare their promotion and marketing schedules in advance to ensure they do not miss key opportunities to sell," he writes, "At the beginning of the year, come up with a marketing plan with specific dates and ideas. This will allow you and your staff to prepare key marketing materials with plenty of time for changes and revisions."
2. Focus on the holidays. Quite obviously, the most significant occurrences to take place during the fourth quarters of every year are the much-celebrated holidays. They begin with occasions like Thanksgiving and Halloween and end with Christmas, Hanukkah and New Year's Eve/Day. To put it bluntly, it would be foolish to not acknowledge these special days in the ways in which you both market your brand and decorate your store.
"If your small business has increased sales during the holiday months, now is the time to get the promotion machine moving, and you don't need to spend a small fortune to do this," states Balboa Capital, "Include holiday promotions or sales events on your website and through your social media applications such as Facebook and Twitter. An e-mail marketing campaign is also an effective way to notify prospects and customers of your small business' holiday promotions and sales."
3. Provide your staff members with holiday training. Working your sales floors throughout the year isn't quite the same as doing so during the last three months of the year. The expected increase in customer traffic dictates that more of your staff members will need to be on hand and they will all need to be prepared for busier work days. It's certainly wise to conduct some training sessions to make sure that everyone on your team is prepared.
"The holidays can be a stressful time for all those working in the retail space, but you can lighten the load by preparing your staff for what is to come," advises Lucash, "Talk to them about what is expected, prepare them for sales, shipping, and fulfillment. Lastly, bring on extra helpers if the work load is just too much for your current staff to handle. This will ensure your customers and staff are taken care of which will ultimately produce more sales."
4. Get your hands on some quick cash to help you with your marketing plans. At Synergy Merchants, we get pretty excited every fourth quarter knowing how much our unique merchant cash advance program has helped Canadian business owners to follow through on their plans to boost sales. For more information about our merchant cash advance program or to speak with one of our licensed funding specialists to get a free, no obligation quote, simply call Synergy Merchants at 1-877-718-2026 or email us at info@synergymerchants.com.
Be sure to check back for our next blog this Thursday as we continue to list ways to ensure that you achieve greater success during Q4!