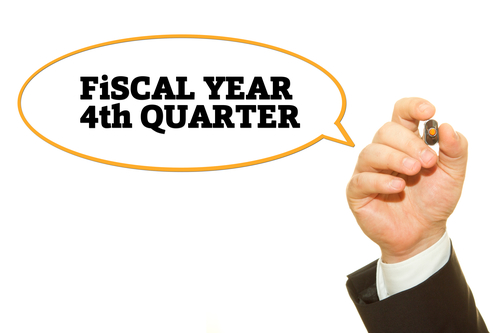 4 More Ways To Ensure Greater Success During Q4
In our last blog, we started to list ways that store owners can prepare their businesses for successful fourth quarters. We pointed out that the last three months of the year are generally the busiest for retailers all over Canada. With the number of holidays that are celebrated, there is so much extra shopping that is done by Canadians nationwide. However it's important not to rest on your laurels.
Focusing your attention on marketing your brand for greater success is important during Q4. So what you can you do ensure that? Here are four more ideas:
1. Find ways to stand out from your competition. During the final months of the year, most retail businesses welcome more customers through their doors than at any other point of the year. That includes your competition. So what can you do to lure away customers from your competitors? It's important to come up with a uniquely inviting marketing strategy. What does your company offer that others do not? What experiences can you provide that others can't?
Answering these questions through your marketing will help you to enjoy a more successful fourth quarter than normal. On Entrepreneur.com, Jason Lucash insists upon differentiating yourself in order to achieve fourth quarter success. "The most important part of preparing for the busy season is differentiating yourself," he insists, "Everyone is looking to get some big slice of sales pie but not everyone will be successful around the holidays. Make sure you stand out!"
2. Place added emphasis on employee morale. Yes, the final months of the year are often filled with joy and excitement. However, as Balboa Captial admits, "the final three months of the year are hectic and often filled with stress." This is especially true for your employees who may be working extra hours and/or working extra hard to keep up with the demands made by all of those extra customers you're getting. Be sure to keep your team motivated and energized.
"This is a perfect time to meet with your employees and set sales goals that are realistic," Balboa Capital continues, "If applicable, create incentive programs for your employees and sales people to keep them energized, as some workers are known to mentally 'check out' during the holiday months. Give your employees welcome words of encouragement and recognize their individual – and team – accomplishments to keep morale high and attitude positive."
3. Predict your upcoming sales based on past results. Naturally, in order to prepare for the holiday rush, you'll need to recall the sales records of years past. Which of your products have been the most popular? Which ones have sold the least? Using this and other data collected from previous fourth quarters, make your inventory purchases and make plans to put up eye-catching displays that will drive sales.
Lucash champions the concept of forecasting your demands and inventory. "Sometimes, it is difficult to predict sales with the economy constantly changing, but by using past sales analytics and doing some research, most businesses are able to project sales fairly accurately," he writes, "Make sure to have your most popular products in full stock when the busy seasons come your way."
4. Get a quote for a merchant cash advance! At Synergy Merchants, we proudly offer Canadian business owners opportunities to follow through on their plans for greater success during the fourth quarter by getting them the money they need fast! We understand, however, that not all business owners are comfortable with the concept of merchant cash advances. This is why we offer free, no obligation quotes. It can't hurt to find out how much you're eligible for!
For more information on our merchant cash advance program or to speak with one of our licensed funding specialists to get a free, no obligation quote, simply call Synergy Merchants at 1-877-718-2026 or email us at info@synergymerchants.com.