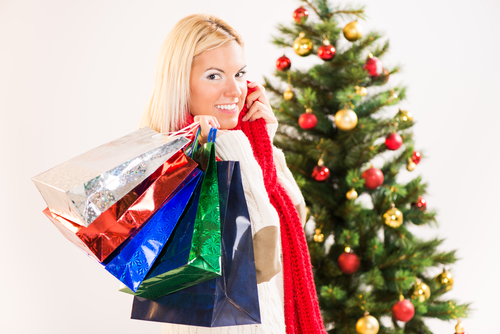 4 Ways To Entice Holiday Shoppers To Visit Your Store
It's the most wonderful time of the year! And that's not just a song lyric. It's the way the majority of Canadian retailers feel right now considering that Christmas is less than a month away. Add Hanukkah and the number of other holiday celebrations that take place at the end of December and you have yourself a recipe for increased sales in ways that doesn't happen at any other time of the year.
Needless to say, a lot of people are shopping right now. But as the owner of a retail store, that doesn't mean that you should simply take for granted that your sales will increase. It's important that you take measures to advertise in ways that will attract customers towards your place of business. Obviously, there's a lot of competition out there. So what are you doing to entice holiday shoppers to visit your store over your competitors?
Here are four ways:
1. Offer customers special offers. It should go without saying that this is the time of year when most people will be looking for bargains. With so many items on their shopping lists, shoppers will be glad to find stores that are offering the best prices. Offer special deals on some of your most popular items in order to attract bargain hunters. On Shopify.ca, James Corr suggests that you offer such deals to customers in exchange for online reviews.
He writes that online stores with product reviews see 4.6% increases in conversion rates and an average of 18% increases in sales."You may not think it makes much difference, but reviews mean A LOT to customers," he insists, "Customers enjoy reading what other consumers think of a product before purchasing, and they're more likely to take the word of a fellow shopper than trust the potential bias of a paid advertisement."
2. Utilize email marketing. The use of email to conduct business is nothing new. But that's certainly no reason to bypass this very viable and cost-effective method of marketing your brand. Throughout the rest of the month, it will be pretty important for you to communicate to your loyal customers that your store has what they're looking for to complete their holiday shopping. On HuffingtonPost.com, Gabriel Shaoolian discusses the power of email marketing.
"Email marketing is an excellent choice when it comes to reinforcing your brand's value with customers that have expressed interest in your products or services," he writes, "During this festive time of year, most brands are looking to highlight exclusive offers, unique promotions, or special discounts to increase the likelihood of generating sales, and email is undoubtedly one of the best options to successfully do so."
3. Go hard on social media. There's no question that social media platforms such as Facebook and Twitter are all the rage these days. Millions and millions of people worldwide utilize social media to communicate on a daily basis. Also a free source of advertising for your business, your accounts should be used to spread the word about the products, promotions, discounts and deals that your business is offering up this holiday season.
"Given the immense growth of social media as a platform, having a strong presence on Facebook, Twitter, LinkedIn, Pinterest, and Instagram is essential," insists Shaoolian, "Whatever your holiday promotions are they absolutely should be posted on social media and link back to your website so that you can drive traffic to the page where a purchase can actually be made."
4. Secure the necessary funding to advertise your business. At Synergy Merchants, we offer small to medium sized businesses in Canada the opportunity to get money fast! We can approve you for a merchant cash advance within 24 hours! Getting the necessary funding to advertise your company this holiday season will help you to have your happiest holiday season yet!
For more information, or to get a free, no obligation quote, call us at 1-877-718-2026 or email us at info@synergymerchants.com!