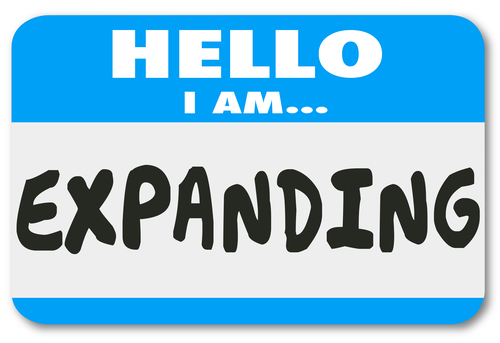 3 Big Benefits Of Expanding Your Business
Over our past couple of blogs, we have highlighted some of the biggest benefits that come with both advertising and renovating your business. It should be noted that advertising and renovations are two of the most popular business-growth choices that clients of Synergy Merchants make once they've secured merchant cash advances. In today's blog, we'll continue our theme and take a look at some of the benefits that come with expanding your business.
Here are three big ones:
1. It will bolster your staff. Naturally, when you expand your business, you require a larger staff. By introducing new members to your team, you open your business up to greater opportunities to improve customer satisfaction. Make no mistake that your employees are the heart of your business, as far as your customers are concerned. Expanding your staff will help you to generate more relationships with members of your target audience.
"One clear advantage to expanding a business is the opportunity to staff the firm with new, qualified people," agrees Justin Johnson on Chron.com, "Since people are often recognized as the most important asset of a company, acquiring new and talented personnel is a clear-cut advantage to business expansion. These people can help streamline processes, bring fresh ideas to the organization and bring a sense of camaraderie to the organization."
2. It will grow your customer base. By expanding your business by opening up a new location, you automatically put yourself in a position to welcome new customers. Naturally, your store will appeal to those people who live closest to its new location. This provides a great convenience to individuals who are interested in what you have to sell, but not interested in travelling long distances to get it.
"When you operate in one business location, the number of potential customers to your store is limited by that one location and your product," explains Aaron Marquis in a separate article on Chron.com, "For example, customers that live in Houston, Texas, will not travel hundreds of miles to Dallas, Texas, for a slice of pizza. However, if you expand your pizza business so that you have a location in both cities, your customer base increases dramatically."
3. It will put you in a better position to secure business funding. As many Canadian business owners know, securing business loans from banks isn't all that easy. With their long list of requirements and long, drawn-out processes, bank loan applications can be quite tedious and inevitably, not worth it to go though. However, Johnson explains that businesses that successfully expand put themselves into better positions for funding opportunities.
"Successful business expansion can put the firm in a positive place when it comes to acquiring necessary financing," he writes, "This financing can be a lifeline to the business during the expansion process and a fallback after the expansion has occurred. A company with increased market share and a solid financial position can typically acquire financing with little to no problem."
The way we see it, here at Synergy Merchants, this is backwards. From our many years of experience, we know that Canadian merchants require funding so that they can expand their businesses in the first place! For more information about our merchant cash advance program or to speak with one of our licensed funding specialists to get a free, no obligation quote, simply call Synergy Merchants at 1-877-718-2026 or email us at info@synergymerchants.com.