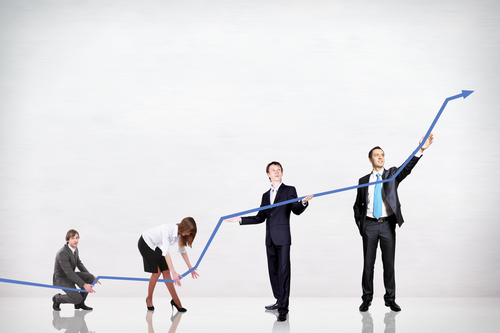 5 Plans That Will Help Your Business To Grow
At Synergy Merchants, we are dedicated to helping Canadian business owners to fulfill their dreams of growing their businesses. Naturally, there are many different avenues that can be taken in order to fulfill those dreams. But, no matter which avenue is taken, money is needed. But, business growth requires strong business plans. That's the first step. So, before we discuss how to get the money, let's discuss some of the planning that will be necessary.
Here are five plans that will help your business to grow:
1. Plan to create a strong and talented team. Allow us to put an exclamation point on the blogs we posted last week. It's integral to your company's success that its staff is made up of talented individuals. This means that your hiring process needs to be top-notch. "Before you can even think about your company's growth trajectory, you need to ensure that you have a solid staff that can help you achieve it," writes Shannon Gausepohl on BusinessNewsDaily.com.
2. Plan for worst case scenarios. The last thing you want is for a sudden mishap to foil all of your plans to grow your business. The truth is, however, that can anything can happen at any time. It's a fact of life. It's important to protect your business from unfortunate situations that may arise. Planning for a worst case scenario involves the taking out of insurance. Doing so will minimize risks.
As Gausepohl explains, "risk is an inevitable part of starting and growing a business. It's impossible to control everything, but there are plenty of ways to limit internal and external threats to your company and its growth. One important resource to help you accomplish this is your business insurance provider."
3. Plan to learn from other business owners. Obviously, you're not the only business owner in the world. You're certainly not the first and you definitely won't be the last. You're also not the only business owner in your industry. So never think that you have all the answers. Study your competition. Take a look at their websites. Ask others their opinions about businesses in your industry. Go to trade shows and other events to learn more about them and their customers.
"Attend your local networking events, look around at the people you work with that need what you have to offer and you need what they have to offer," advises businessman and author, Ken Varga on his website, "What types of products or services do they need to make their lives easier? Where can you find those products or services? Apply this principle to people you want to work with and by helping them they will help you."
4. Plan on getting closer with your vendors. Growing customer relationships will always be an important task of yours. But remember that you are your vendor's customer. That relationship is as important as any other you develop. "If you've found good vendors then you will reap long-term rewards from the solid relationship you will have built and maintained with these suppliers – just as you and your long-term customers will reap benefits from each other," says Brad Egeland on BusinessKnowHow.com.
5. Plan on securing extra working capital. "In the early stages of your business, you'll likely see a very lean profit margin (or no profit at all), so any money you do make should go directly toward helping you grow," advises Gausepohl. At Synergy Merchants, we have a unique merchant cash advance program that assists Canadian business owners with getting additional funding necessary to implement their plans for business growth.
For more information on our merchant cash advance program or to speak with one of our licensed funding specialists to get a free, no obligation quote, simply call Synergy Merchants at 1-877-718-2026 or email us at info@synergymerchants.com.