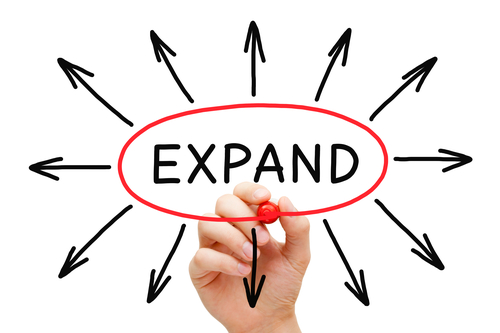 4 Important Steps To Expanding Your Business
When a business is successful, it stands to reason that its owner will want it to grow. One of the ways in which business owners grow their brands is to embark on expansion. This can be done in a number of ways. In some cases, owners open up new locations. In other instances, they hire new staff and order more inventory. Expanding a business, however, does require the taking of some very important steps.
Here are four:
1. Research your industry in foreign markets. If you're looking to expand globally, it is of vital importance that you research your industry in other marketplaces. How well do people in foreign countries take to the products and services you offer? Don't assume that because you're doing well at home that it will automatically translate into strong sales abroad. On Forbes.com, Will Perry strongly advises that you know your company and your industry.
"Before you can determine if your products and/or services are a fit for the global marketplace, you should have a clear picture of where your company (and the industry in which it operates) is today, and where it will be (as well as where you want it to be) tomorrow," he informs, "Don't forget to consider supply constraints and other factors that might change your product or service lines later."
2. Look into acquiring competitors. If your business is doing well, it may signal that your competitors aren't keeping up. In such a case, you may want to expand by looking into whether or not you can purchase your competitors' companies and merging them with your own. On BizBuySell.com, Mike Handelsman writes that your knowledge in your field will work to your advantage when pursuing such acquisitions.
"Since you know the ins and outs of your industry, and their business, you are less likely to overpay for it," he believes, "You may also have good ideas on how to improve your competitor's operations, leveraging your expertise and experience. In addition, there may be economies of scale that can allow you to lower your raw materials costs or other business expenses."
3. Ensure that business is currently stable. It's important not to jump the gun. Most business owners wish to expand their companies, but they're not all necessarily ready to do so. In order for a business to grow, there must be room for growth. In other words, if there are any difficulties that must be overcome with the current state of the business, the time for expansion has not yet come.
According to the Canada Business Network, "your current operations should be relatively stable before you consider expanding your business. Research shows that trying to grow when the business is not ready is a leading cause of business failure. Growth can put a strain on your cash flow, your production capacity, and your ability to deliver services; be sure you are starting on strong footing. Carefully research your ideas and consider the impact on your operations."
4. Secure the funding to help you afford the expansion process. At Synergy Merchants, we know how important it is for Canadian business owners to secure working capital to help them expand their businesses. We also know how hard it is for them to get approved by their banks for business loans. Synergy Merchants, however, can help business owners to get the necessary funding to expand their businesses right away!
Do you accept credit cards and debit cards as methods of payment? If so, contact us to learn more about our quick and easy merchant cash advance program. In fact, you can get a free, no obligation quote by calling us at 1-877-718-2026 or emailing us at info@synergymerchants.com!