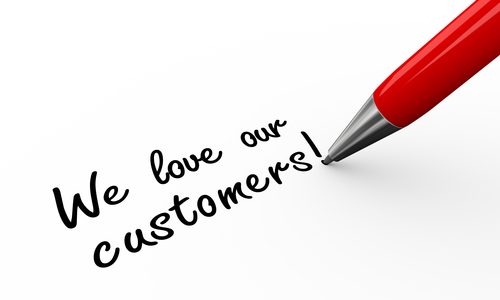 3 Ways To Show Love To Your Customers
Earlier this week, couples all over Canada celebrated Valentine's Day. Partners expressed their love with the giving of gifts and romantic dinner dates. And, all the while, Canadian businesses reaped the benefits of being able to sell their products and services to those who saw them as excellent gifts for their respective better halves. But just because Valentine's Day is now over, it doesn't mean the love has stopped. It's important to remember that you always need to show love to your customers.
Here are three ways how:
1. Make the return process quick and easy. When you become so wrapped up in the practice of selling products, you neglect the importance of making the opposite process a customer-friendly experience. Believe it or not, the ways in which you accept returns from your customers can make or break your relationships with them. Show them some love my making it easy for them to return items they've purchased. It will go a long way in growing long-lasting relationships with your customers.
On MyTotalRetail.com, customer care expert, JoAnna Brandi insists that you make it easy for customers to process returns. "Don't pretend to make it easy — really do it," she insists, "Many consumers want to buy from one channel and return through another. If the jacket doesn't fit, they want to be able to take it back to the store and return it there."
2. Don't be above admitting to a mistake. Consumers, these days, are quite savvy. They can easily tell the difference between high quality and low quality products. They can also tell the difference between good and bad service. Remember, however, that most people can also tell the difference between deceitfulness and an honest mistake. It's your job to own up to the mistakes you make. You may be surprised to find out how many people you will endear to your brand just by owning up to missteps and simply saying you're sorry.
On LoveToKnow.com, corporate trainer and consultant, Mary Gormandy White insists that everyone in your company learns to take responsibility. "Companies – and their employees – must take responsibility for customer service," she writes, "The notion that customer service is only the responsibility of a particular person or a specific department is one that needs to (be) dispelled. It is a simple fact that customer service is everyone's job. When customers do business with your company, they are doing business with the organization as a whole."
3. Offer to deliver your products. We live in a world where people expect to have things made easy for them. Remember, we used to be a society of people who window shopped in order to browse and compare prices. Okay, window shopping and browsing still exists, however, a large number of consumers are doing it all online.
You know what else they're doing online? Shopping! And that's because the convenience of having products shipped directly to your doorsteps is often too inviting to pass up. "Do you ship to stores, offices and homes?" asks Brandi, "Picking up a purchase at a store on the way home from work may appeal to the shopper who doesn't want a box on the doorstep announcing her absence. Offer delivery options."
At Synergy Merchants, we support Canadian business owners in their quests to improve their businesses in order to truly impress their customer bases. We know how important it is for such business owners to get their hands on the extra working capital necessary to implement their plans for growth. Our merchant cash advance program ensures that they can secure the business financing they need quickly. And, by quickly, we mean 24 hours!
For more information about our merchant cash advance program or to speak with one of our licensed funding specialists to get a free, no obligation quote, simply call Synergy Merchants at 1-877-718-2026 or email us at info@synergymerchants.com.